Have you forgotten the password of your Access MDB file? Access Password Recovery offers an effective solution for you to unlock the password protected MDB files in your Access database.
A file with the MDB file extension is a Microsoft Access Database file. For safety concern, an organization creates passwords for Access database MDB file to protect them from unauthorized use. Sometimes, if the user fails to remember the passwords of such files, the encrypted MDB files may become inaccessible. In such situation, one can use Access Password Recovery to unlock the MDB files. This smart tool can recover all types of database protection, including passwords to open and user-level workgroup passwords.
In the following contents, you will see how to use this application to unlock MDB file that is protected by passwords.
Please download the package of Access Password Recovery at first. Then, please follow the setup wizard to install it on the computer.
After opening the GUI interface of this application, please click the Open button in the tool bar or the Open File button on the GUI interface to add the secured MDB file in your Access database.
After adding the file, please check the radio button of "Dictionary Attack (Recommended)" in the "Recovery" tab. Then, please click Dictionary tab in the middle of the GUI interface to open the corresponding setting panel. Please see it in the next snapshot.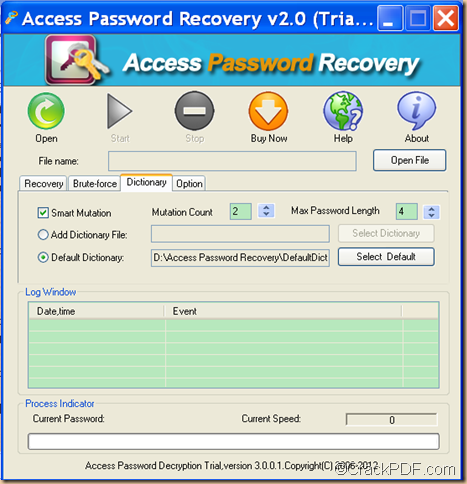 On this setting interface, you are able to set mutation count, maximal password length, and dictionary.
To set mutation count and maximal password length, you have to check the radio box of "Smart Mutation" on this interface first. Then, you can set them in the "Mutation Count" spin box and "Max Password Length" spin box.
To set dictionary, you can reset the default dictionary by clicking the "Select Default" button. You can also check the radio box of "Add Dictionary File", and then click the "Select Dictionary" button on the interface to add a new dictionary.
After the setting, you can click the Start button in the tool bar to start to unlock the password protected MDB file in the Access database.
To try Access Password Recovery, please click the following button to download it.

Random Posts