An important PDF document of yours cannot be opened because there is an open password security and the contents in it must be edited now, what will you do if you don't remember the PDF password? Maybe the program CrackPDF PDF Password Cracker will give you a good solution.
The application PDF Password Cracker supports to remove PDF password, including open password which can be used to open PDF file and owner password which is to set restrictions for PDF document from being printed, modified, copied, etc. So to use this application, please click here to download and install it.
Double click the application icon, you can see the main interface of PDF Password Cracker appear on your screen like the one shown in Figure 1. You can drag and drop the encrypted PDF document into it or click Load button to add PDF document.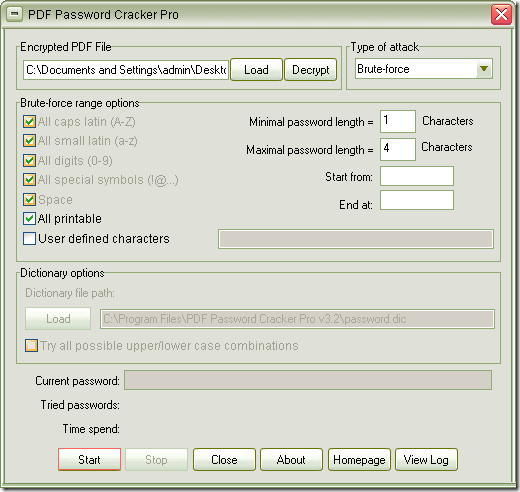 Figure 1
If you can choose a suitable method to remove PDF password, the whole process will be much faster. In Type of attack group box, please choose a method from Brute-force ( The situation that you remember the length or the part of the password), Dictionary ( The situation that you want the application to remove PDF password from the dictionary file) and Key search ( The situation that you know nothing about the PDF document, with which the application will try all possible passwords from a start one).
In Brute-force range options group box, you can choose to select any possible part to recover the password. You can also specify the password length by giving a max or a min length. In Dictionary options group box, you can select the dictionary file on your computer by clicking Load button.
Please click Start or Decrypt button to start to remove PDF password and when the password is found, it will be shown in Current password box and you can see how much time the process spends. In addition, you need to save the password protected PDF as a normal one without password in the popup Save as window.
If you are interested in PDF Password Cracker, you can purchase it on its homepage or you can contact the support team when you have any questions about the product.
Related Posts