How many times have you been asked for a password when opening a PDF file?And how many times have you received a dreaded PDF not printing message when sending a PDF file to the printer? To deal with the above problems, you need PDF Password Cracker to remove the restriction from protected PDF documents.
In our daily life and work, we may often receive password protected PDF documents such as mobile bills, bank statements, other financial reports, etc. And, sometimes it is highly inconvenient to remember or type the complex and long passwords.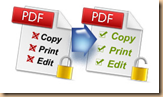 PDF Password Cracker is a professional and powerful PDF decryption tool that  allows you to remove passwords from encrypted PDF files with high quality and speed. It also enables you to crack the PDF password that protects the PDF from editing, copying and printing. If you know the right password, it also enables you to crack the open password easily and efficiently.
PDF Password Cracker can be used to decrypt user-password protected and owner-password protected PDF files. Then you may wonder what user password and owner password are.
User Password, also named open password, is used to encrypt the PDF and prevent them from opening to protect the owner's right. Generally speaking, utility bills, bank and financial documents are encrypted with user password. Only if you enter the correct "user password"can you open the documents.
Owner Password, also called master password, is used to protect the PDF documents from editing, changing, printing, copying text and graphics into the Clipboard, adding annotations and form fields, etc.
With this password remover tool, you can remove passwords from encrypted PDF just in  2 steps. Firstly, import the encrypted PDF files. Secondly, export the decrypted PDF files.Then, you can feel free to view, edit, copy, and print the full-version PDF files.
Of course, the above steps is just a simplified description.For details, please visit its homepage.
Any questions, suggestions and problems about PDF Password Cracker, please do not hesitate let us know.
We will reply you ASSP.
Email: support@crackpdf.com
Related Posts: