Have lots of PDF documents that are protected by a long and complex passwords on computer, feel inconvenient and boring to type them each time before opening a PDF file? Why not try to remove password from PDF?

There's a professional PDF password cracker called PDF Password Cracker Professional that can help you professionally remove passwords from PDF files without other changes to the PDF document. It also enables you to recover user passwords with brute-force and dictionary attacks. What's more, it supports key search attack that allows you to decrypt PDF files with 40-bit encryption in a reasonable time regardless of the password length and complexity.
There are two different PDF passwords provided by the standard security-owner password and user password.Owner password protects the PDF documents from printing, editing, copying,etc. User password locks the file to prevent the PDF files from opening or viewing. PDF Password Cracker Professional can decrypt PDF documents with only owner password instantly. The decrypted PDF documents could be opened by any PDF viewer with editing, copying, printing and annotating functions enabled.
PDF Password Cracker Professional is different from other similar products in the following aspects:
Firstly, it is compatible with a lot of operating systems such as Windows 98, ME, NT, 2000, XP, 2003, and Vista.
Secondly, it supports PDF 1.7 (Acrobat 8.x) files (with 40-bit RC4 decryption, 128-bit RC4 decryption, or AES decryption), compressed files and unencrypted meta data.
Thirdly, it supports abundant decryption modes: Adobe Standard 40-bit decryption, Adobe Advanced 128-bit decryption and AES decryption.
Lastly, it recovers user password with brute-force or dictionary attacks.
How to use PDF Password Cracker Professional to remove password from PDF?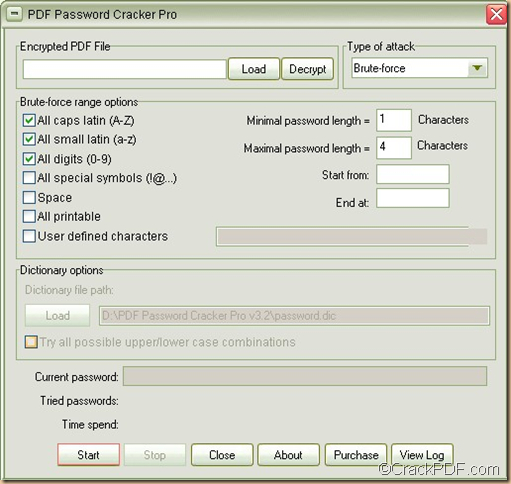 Firstly, download and install PDF Password Cracker Professional.
Then, load encrypted PDF files.
Thirdly, start the decryption.
Finally,save the decrypted PDF files.
Done!
Just with a few minutes, PDF Password Cracker Professional can help you easily remove password from PDF and unlock the secured PDF files. Now try to free download to experience this amazing software by yourself now!
For more details, please contact:support@crackpdf.com.
Random Posts