Is your Excel file protected by password and could not be open normally because you have forgotten the original Excel password? Or has an employee left your office and he forgot to unlock an Excel file with a password set on it? Don't WORRY any more! CrackPDF Excel Password Recovery offers the solution to recover lost or forgotten passwords for Excel.

CrackPDF Excel Password Recovery is a handy utility that can help you recover Excel password and reopen your locked Excel file. No matter how long and complicated the password is, and no matter how much you can still remember about the lost Excel password, with the help of CrackPDF Excel Password Recovery, you can recover password for Excel files created by any version of Microsoft Office Excel 1997-2010.
For Excel files containing confidential data, sometimes we may set a password to prevent it from unauthorized modification or illegal Excel password recovery. Losing those important Excel worksheets containing working table or research data may suspend the projects. It is a commonplace situation that lots of people may face everyday. It must be very annoying if we can't retrieve it on time. This, however, could be avoided now by trying CrackPDF Excel Password Recovery. It is able to crack or recover the forgotten passwords, and unlock password-encrypted Microsoft Excel documents.
Below are the simple steps to use this utility to recover Excel password:
Step 1: Download & Launch CrackPDF Excel Password Recovery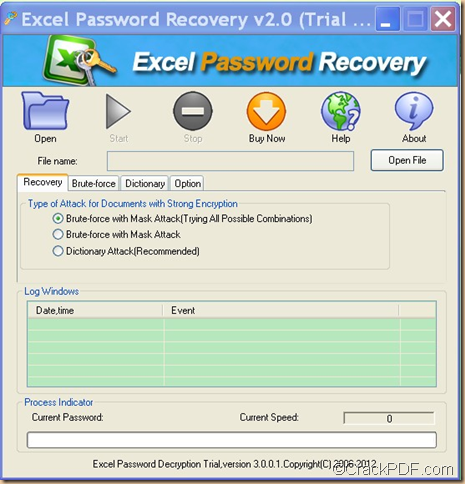 Step 2: Import the encrypted Excel file by simply clicking Open button .
Step 3: Select a suitable attack type and setting.
Dictionary Attack—try each single word or word combinations in a built-in dictionary.
Brute-force with Mask Attack—is useful when you remember a little bit about the forgotten Excel password.
Brute-force with Mask Attack (Trying All Combinations)—is used when you remember nothing about the password.
Step 4: Click Start.
If you are really forgetful, you can choose to use CrackPDF Excel Password Recovery. For details, please send your email to support@crackpdf.com.
Random Posts