Cannot send and receive emails through Microsoft Office Outlook because forgetting the passwords to the Outlook email account? This happens a lot especially after you reinstall your computer OS, for you have made Outlook automatically remember the password for your convenience. If you forgot the password of your Outlook email account, all your email messages, appointment list and contacts will be completely lost.
But don't worry, here are a few things you may try to fix up the problem :
Firstly, you can try to contact the ISP or email service provider and ask them to reset the password for you. In fact, Outlook acts as an intermediary and passes the password you set to your email server and it does not set any passwords .

Secondly, when the ISP or email service provider is unable to help you regain or revive the forgotten password, you can try to use a Outlook password recovery application—CrackPDF Outlook Password Recovery.
CrackPDF Outlook Password Recovery is an easy-to-use application which can effectively and quickly recover forgotten or lost Outlook passwords for Microsoft Outlook email accounts. No matter how long and complicated the passwords are, it can instantly recover all the passwords. It is compatible with Windows 7, Vista, XP, 2000, Server 2008(R2), Server 2003(R2) and supports all versions of Microsoft Outlook such as Outlook 1997, 2000, 2003, 2007, and 2010.
It can not only retrieve password of Outlook, but also can recover the account name and server name of Outlook.
It is extremely easy to use. The only thing you need to do is to click just one button-Search. Then, CrackPDF Outlook Password Recovery will recover the forgotten or lost Outlook email passwords in a wink.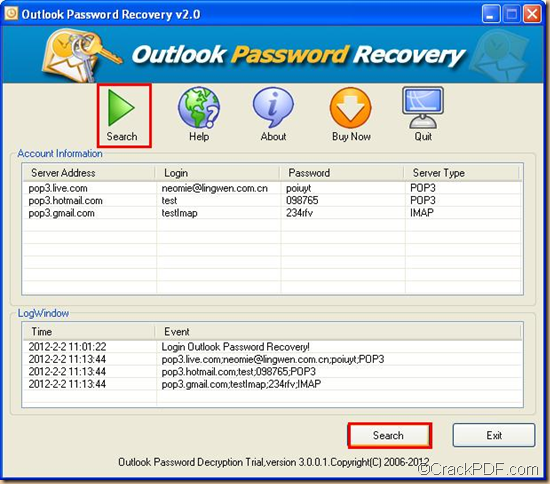 I hope these small tips and tricks will help you when you need to recover forgotten Outlook password.
For your reference: if you want to know more about CrackPDF Outlook Password Recovery, please contact support@crackpdf.com.
Related Posts: