The Windows application CrackPDF Outlook Password Recovery supports to retrieve MS Outlook password in an easy way.
CrackPDF Outlook Password Recovery is an easy-to-use application that can help you retrieve password, email account name, server address, and server name for all versions of MS Outlook such as Outlook 1997, 2000, 2003, 2007, and 2010 email accounts.
In this article, you will see how to use this application to retrieve Outlook password with easy operations. At first, please download the package of CrackPDF Outlook Password Recovery. Then, please follow the steps below to retrieve the Outlook password.
Step 1. Install and run the application
After downloading the package of the application, please double click the installer and follow the setup wizard to install it on the computer. Then, the application will run. You can see the interface like the following snapshot.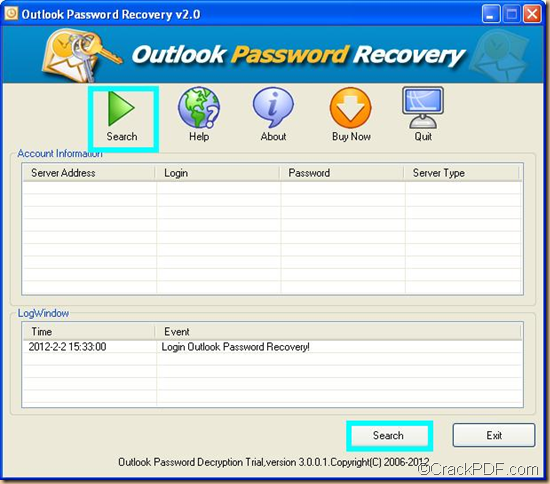 Step 2. Start to retrieve the password for Outlook email accounts
To start the retrieval of the Outlook password, you just need to click the Search button in the tool bar or click the Search button at bottom of the interface.
Several seconds later, you can see all the useful information of the email accounts such as the server addresses, email account names, server type and the retrieved password in the "Account Information" table list. You can also see the start time and finish time of the process and event in the "LogWindow" table list.
Kind Reminder: If you use the trial version of this application to retrieve Outlook passwords, account names, etc., you may not see the full passwords. And you can only use the trial version for 20 times.
In the end of this article, if you are interested in CrackPDF Outlook Password Recovery, please click the following button to download the free trial version of this application. Just have a try and you will love it.

Related Posts: