This article is mainly about how to recover password for Microsoft Access database document with Access Password Recovery.
What's Microsoft Access?
Microsoft Access, also called Microsoft Office Access, is a database management system from Microsoft, which uses the underlying Jet Database Engine. MS Access stores large number of user's data like tables, stored procedures, links, hyperlinks and indexes in Access database or MDB files. It is a member of the Microsoft Office suite of applications.
Once you forgot password of MS Office Access documents, the smart application Access Password Recovery offers a good solution for you to recover the password.
Only by several steps, you can successfully recover the Access password. Please follow the instructions below:
1. Please free download the installer Access Password Recovery. Then, please double click this installer and follow the setup wizard to install it on the computer. The application will automatically run after you finish the installation. You will see its user interface on the screen.
2. Please add the password protected Access file into the application. There are two ways to add the document. One is to click the Open button in the tool bar of the GUI interface. The other way is to click the Open File button on the GUI interface.
3. Please focus on the tab control in the middle of the GUI interface. There, you can see the three methods as shown in the following snapshot.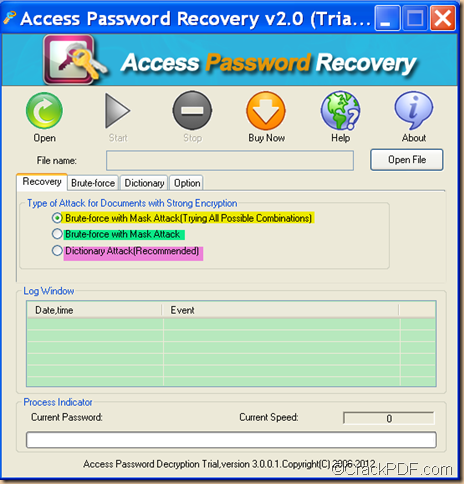 Please try the recommended "Dictionary Attack (Recommended)" method first, which will try the password combinations in dictionary.
If you can recall part of the information such as password length, password character set, etc., you can directly try the "Brute-force with Mask Attack".
If you remember nothing and the dictionary method still can't recover the Access password, then you can resort to the last method – Brute-force with Mask Attack (Trying All Combinations).
4. Please click the Start button in the tool bar to start to recover the password for the Access file.
Via clicking the following button, you can download and try Access Password Recovery.

Related Posts: