If you want to recover passwords for Microsoft Excel spreadsheets, CrackPDF Excel Password Recovery will be a good assistant for you.
Microsoft Excel is an electronic spreadsheet application that can be used for storing, organizing and manipulating data. It features calculation, graphing tools, pivot tables, etc. You can use it to organize your data into rows and columns. The horizontal rows are identified by numbers (1, 2, and 3) and the vertical columns with letters of the alphabet (A, B, C). You can also use it to perform mathematical calculations quickly.
CrackPDF Excel Password Recovery is a professional Excel password recovery tool. It can retrieve password for Excel files created by any version of Microsoft Office Excel 1997-2010.
Only in a few steps, you can successfully recover Excel spreadsheets passwords. Please follow the steps shown below:
Step 1. Download and install
Please download CrackPDF Excel Password Recovery and install it on the computer by following the setup wizard.
Step 2. Add password protected Excel file
After opening the application, you can see its user interface as shown in the next snapshot. In the tool bar on top of the user interface, please click the Open button to open file picker window and add the encrypted Excel file into the application. You can also click the Open File button beside the "File name" input box to load the file.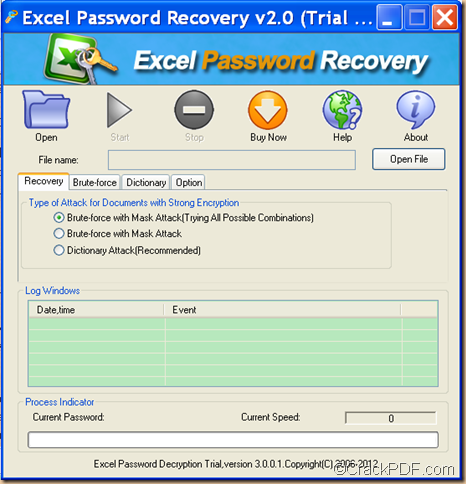 Step 3. Recover password for the Excel file
In group box of "Type of Attack for Documents with Strong Encryption" under the "Recovery" tab, please choose a recovery method.
Dictionary Attack (Recommended): If you remember nothing about the Excel password, you are strongly recommended to try this method first. After you choose the option, please click the Dictionary tab to make some settings. If it fails to recover the password, you can try the "Brute-force with Mask Attack (Trying all Possible Combinations)" option.
Brute-force with Mask Attack: If remember something of the Excel worksheet password, please choose this option and then click the Brute-force tab beside the "Recovery" tab to set the related parameters.
At last, please click the Start button on top of the interface to start to recover the password for the Excel worksheets.
This is the end of this article and you can click the following button to free download CrackPDF Excel Password Recovery.

Related Posts