Most people are opted to encrypt some important and confidential PDF documents with passwords.But what if you forget or loss the passwords? This situation happens a lot in companies and businesses when employees have left the company and forgot to turnover passwords of important PDF documents. PDF Password Cracker Enterprise edition is a PDF password remover, which can enable document owners and users who have lost or forgotten password to access PDF files.

PDF Password Cracker has three different versions-PDF Password Cracker, PDF Password Cracker Professional edition and PDF Password Cracker Enterprise edition. All of them can be used to remove passwords from encrypted PDF files without other changes to the PDF documents. Just like the professional edition, it can recover user passwords with brute-force and dictionary attacks and support key search attack to decrypt PDF files with 40-bit encryption.
Brute-force attack will try all possible characters combinations in the specified range. With highly optimized password recovery engine, it can immediately short password.   Dictionary attack will recover lost PDF password by trying the password combinations in the built-in dictionary.(Note: It also supports self-created dictionary.)
PDF Password Cracker Enterprise version has two different functions which are different from the other two versions of PDF password remover.
Firstly, PDF Password Cracker Enterprise version can remove more security options from PDF file. It can remove meta data, private data, java script actions, form actions,embedded thumbnails, embedded file, bookmarks, digital signatures, comments, named destination, etc.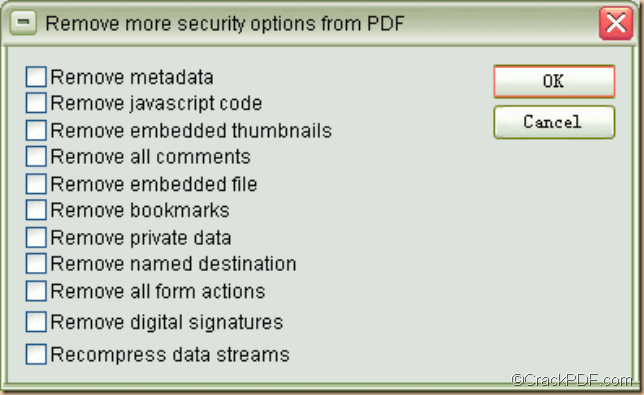 Secondly, PDF Password Cracker Enterprise version can recompress the data streams. With more efficient compression methods, it will recompress the text and line art in the PDF document, which can lead to 10-15% savings.
Load →Decrypt→Save, only a few clicks, you will remove password from PDF. Sounds great, right?
If you want to learn more about this advanced PDF password remover tool, you can post below or contact support@crackpdf.com.
Related Posts