Have you ever forgotten Word password, and you are in urgent need of the Word document? In our daily work and life, we would like to encrypt extremely important confidential Word document with passwords and then somehow forget or lose, which cause many hurdles. Luckily, this problem can be easily solved with CrackPDF Word Password Recovery.

  CrackPDF Word Password Recovery is a professional and easy-to-use application that can easily recover forgotten or lost Word password. It is able to securely seek back lost or forgotten password for all types of Microsoft Word 2010/2007/2003/2000/1997 files with three password recovery methods-Brute-force with Mask Attack (Trying All Possible Combinations), Brute-force with Mask Attack, and Dictionary Attack.
If you still remember how long the password is or have any idea about the character set of the password, or you know it is made up numbers, letters or symbols, you can try the brute-force with mask attack. The following will tell you how to recover Word password with CrackPDF Word Password Recovery.
Firstly, download CrackPDF Word Password Recovery, then  install and launch it.
Secondly, add the encrypted Word files.
Thirdly, set options — click the radio button next to Brute-force with Mask Attack.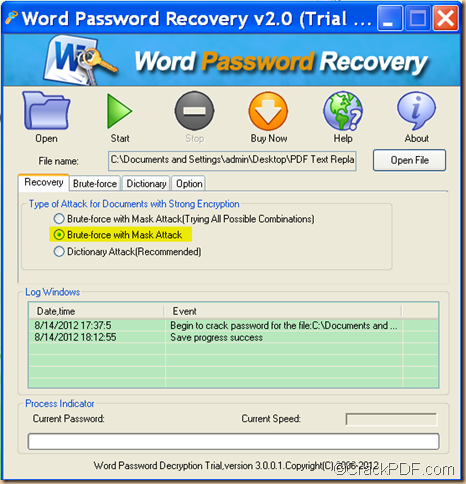 Then, click Brute-force, and then you will see a setting interface as illustrated below.

Then you can set the corresponding options to narrow the combination possibilities. For example, you remember that the password is a pure letter password with no longer than four letters.You can specify 1 in the Min length combo box, specify 4 in the Max Length edit box, and click the check box before a-z under Character Set.
Lastly, click Start to start the recovery.
That is  how to retrieve password from Word document with CrackPDF Word Password Recovery. You can try it to see if it can accurately recover Word password.

of CrackPDF Word Password Recovery
Related Posts: