With RAR Password Recovery, you can easily retrieve RAR/WinRAR password and open the encrypted RAR files. If you want to know more details about it, please keep reading the following paragraphs.
RAR Password Recovery is a smart and easy-to-use utility that can retrieve password for RAR/WinRAR achieves with Brute-force with Mask Attack (Trying All Possible Combinations), Brute-force with Mask Attack and Dictionary Attack (Recommended).
The above three attacks are suitable in different situations. If you are able to recall part of the RAR achieve password such as the length of the password, character set, prefix, suffix, etc., you can use Brute-force with Mask Attack in RAR Password Recovery to recover the password of the RAR/WinRAR achieves.
After you download the package of RAR Password Recovery, please follow the steps below to recover password for your WinRAR achieves:
Step 1. Install and run RAR Password Recovery
To install and run RAR Password Recover, please double click the .exe file in the download package and follow the setup wizard.
Step 2. Add the password protected RAR/WinRAR achieve
To add the RAR/WinRAR achieve, please click the Open button or the Open File button on the main interface to browse and select the file.
Step 3. Choose Brute-force with Mask Attack and set parameters
To use Brute-force with Mask Attack to retrieve the RAR achieve password, please check the radio button of "Brute-force with Mask Attack" in the "Recovery" tab panel.Then, please click the "Brute-force" tab on the interface to open the "Brute-force" panel. The following is a snapshot of the "Brute-force" panel.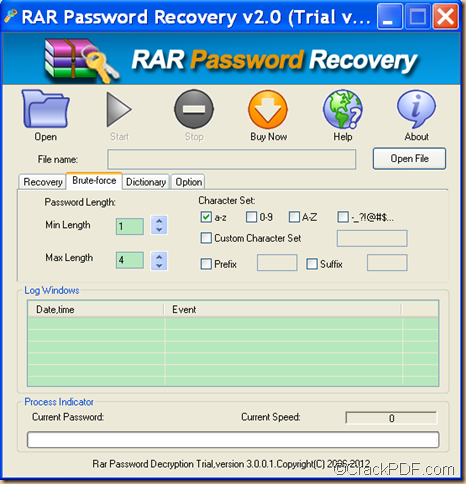 On this interface, you can set the maximal and minimal password length in the "Min Length" and "Max Length" edit boxes. You can also set character set, prefix and suffix.
Step 4.Start to retrieve the password
To start the password retrieval process, please click the Start button on the interface.
A status bar indicating the process of the RAR/WinRAR password retrieval will show at the bottom of interface of RAR Password Recovery.

RAR Password Recovery
Related Posts