If you forget the password of your PDF document and you need to use it urgently, you might as well try to decrypt PDF document with the help of the application PDF Password Cracker Pro.
PDF Password Cracker Pro is a professional Window utility that can help you easily unlock PDF documents. It is able to crack PDF password, including owner password which protect PDF from being copied, printed, modified, etc. and open password which protect the PDF from being opened.
Please see the following contents which are about how to use this application to crack passwords for decrypted PDF documents.
Firstly, please download the installer of PDF Password Cracker Pro. After the download, please double click the installer and follow the setup wizard to install it on your computer.
Secondly, please open the software and add password protected PDF document into the application. You can add the encrypted PDF file via one of the following methods.
Click the Load button in the "Encrypted PDF File" panel and choose the file in the opened file picker window.
Directly drag and drop the PDF document into the application.
Directly input the file path of the PDF document in the input box beside the Load button.
Thirdly, in the "Type of attack" drop-down list, please choose a method to crack the PDF password based on your actual situation. If you remember nothing about the forgotten PDF password, please try the "Dictionary" method which will decrypt the password protected PDF document by the dictionary in the application or on your computer. Please see it in the following snapshot.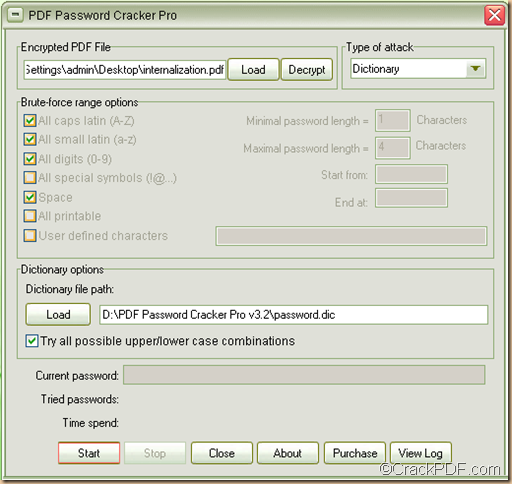 In the "Dictionary options" group box, you can:
Click the Load button within this group box or input a dictionary file path in the input box beside it to load a new dictionary on your computer.
Check or uncheck the radio button of "Try all possible upper/lower case combinations" to construct passwords from dictionary file automatically.
Lastly, to start the decryption of the PDF password, please click the Start button at bottom of the interface. You can also click the Decrypt button beside the "Load" button to decrypt the PDF document.
So, with this application, you can easily decrypt or unlock your password protected PDF document. If you want to use PDF Password Cracker Pro, please download the free trial of it via clicking the following button.

Related Posts