With the help of the application PDF Password Cracker, you can easily crack PDF password. This article aims at showing how to do this kind of work. Please continue to read the contents below.
PDF Password Cracker is a professional application that can crack Adobe Acrobat PDF password when you forgot PDF owner password. The so called "owner password" is the password that preventing the file from editing, copying, printing, adding/changing annotations and form fields, etc. It supports 40-bit RC4 decryption, 128-bit RC4 decryption and AES decryption.
In the following contents, you will see how to use this application to crack PDF owner password.
Please free download PDF Password Cracker. After the download, please double click the installer and follow the setup wizard to install it on the computer.
After the successful installation, please open the application and then you can see the GUI interface as shown below.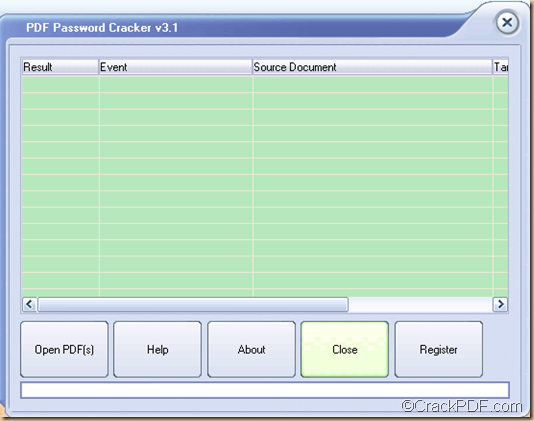 Please click the Open PDF(s) button at bottom of the main interface to open file picker window in which you can import the password protected PDF files. You can also use drag-and-drop operation to add the encrypted PDF files into the processing file list of application.
When the "Save As" window pops up, you need to choose the output location in the "Save in" spin box and input a file name in the "File name" input box, and then click the Save button in the window to start to crack the PDF passwords.
Instantly, it will remove PDF password and display the success information in the file list of application.
If you right click on the entry, you are able to view the source PDF document and the target decrypted PDF document. You can also delete selected items or all items from the list window.
Note: If you load a PDF document protected by user password, a small window will pop up to ask you to input the user password.
With these easy operations, you can quickly crack PDF passwords. Via clicking the following button, you are able to download PDF Password Cracker. Just have a try and you will love it.

Related Posts