Do you have the experience that you want to open a password protected PDF document but you don't know the password or you forget it? What is pity it is. Even you remember all passwords of your PDF documents, maybe it is inconvenient to open it by typing the passwords one by one. So if you have the right, you can try to crack PDF password with a suitable application to make your work more convenient.
The application you are recommended to use is named as CrackPDF PDF Password Cracker Pro which has the ability to crack PDF password, including open password which protect PDF from being opened and owner password which protect PDF from being copied, printed, modified, etc. You can click here to download PDF Password Cracker Pro and install it on your computer.
Please open the application and then add password protected PDF into it by clicking Load button or directly dragging and dropping. The directory of the file will appear in the box beside Load button. You can also input the directory yourself. Please see the interface in Figure 1.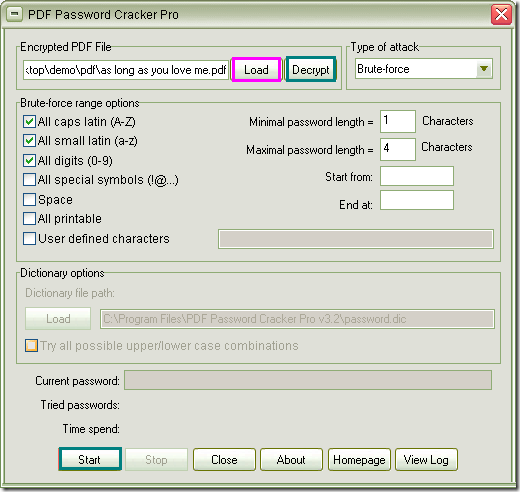 Figure 1
In Type of attack group box, you can choose any method to crack PDF password from three offers: Brute-force, Dictionary and Key search. If you know some part of the password, length of the password, etc. you are strongly recommended to choose Brute-force method. If you want to remove PDF password by the dictionary file in the application or on your computer, please choose Dictionary way. If you know nothing, you can choose the last way: Key search which may cost you a long time.
The options in group boxes Brute-force range options and Dictionary options are available for Brute-force and Dictionary cracking way respectively. If you want to start to remove PDF password, please click Start or Decrypt button on the interface and the application will try all possible passwords automatically until the password is found.
The window for saving the target file which is successfully removed password will pop up when the cracking process is over. Just choose the output location in Save in dropdown list, input the name for the file in File name edit box and click Save button. Please see it in Figure 2.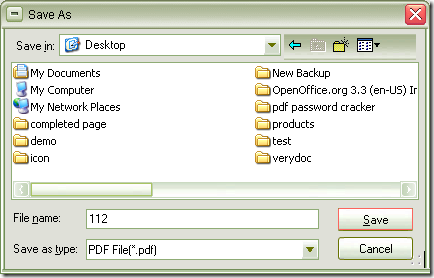 Figure 2
Please click here to enter the homepage of PDF Password Cracker Pro to learn more information about it if you are interested in it. You can download the free trial version and also can purchase it.
Related Posts