To remove PDF password, you might as well have a try of the powerful application of CrackPDF—PDF Password Cracker Pro which is a program designed for removing user and owner password for the password protected PDF document with three methods: Brute-force, Dictionary and Key search. When using PDF Password Cracker Pro, you can freely stop the password removing work and the application will save the current state for you. Of course, you can restart it any time.
To use PDF Password Cracker Pro, you can click here to download the free trial version and install it on your computer. You can open the application via all program or just double click its icon. The interface of PDF Password Cracker Pro is like the one shown in Figure 1.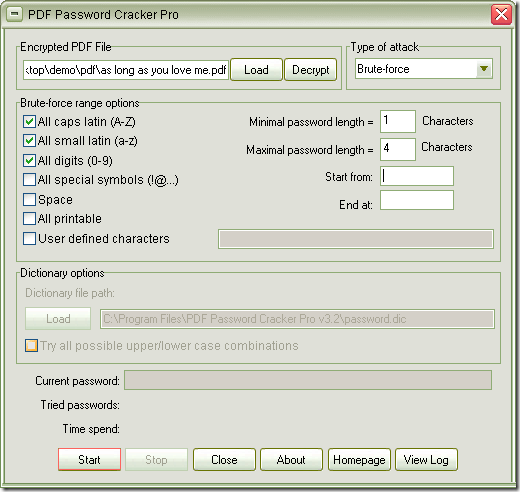 Figure 1
To add encrypted PDF document into the application, please click Load button to open file picker and choose the file that you want to remove PDF password. Or you can directly drag the file and drop it into the application.
Please choose a suitable cracking method to help you remove PDF password in Type of attack box. If you choose Brute-force, you can specify the password yourself in Brute-force range options group box. For example, if you remember that there are caps latin in PDF password, you can check the option All caps latin (A-Z). You can also set the max and min password length.
If you choose Dictionary, PDF Password Cracker Pro will find the password according to the dictionary file of the application or you can load your dictionary file on your computer by clicking Load button.
The last way is Key search which may cost a long time to remove PDF password. It will traverse all possible PDF password in the processing course.
When the password is found, it will be shown in Current password box and a window for saving PDF document without password will pop up. Just choose the destination and the file name, then save it.
If you want to stop the removing course, you can click the button Stop at the bottom of the program and when you want to restart the course, just click it again.
To learn more information about this powerful PDF password remover, please visit its homepage and you are able to purchase it there.