This article is mainly about how to use CrackPDF PDF Password Cracker for Mac. With this smart Mac application, you can easily remove PDF password.
PDF supports open and owner password to protect PDF files on two different ways. Open password prohibited unauthorized readers to open it and owner password restrict permissions of printing, copying, editing or commenting the PDF files.
CrackPDF PDF Password Cracker for Mac is a Mac oriented application that can directly remove PDF owner passwords that restrict the editing, copying, and printing permissions. If the PDF file is encrypted with an open password, it also allows Mac users to save the PDF to a new PDF file with inputting the open password. It supports to run in Mac OS X v 10.5, 10.6, 10.7, etc.
In the following paragraphs, you will see how to use this application to remove PDF owner passwords and owner password.
At first, please free download CrackPDF PDF Password Cracker for Mac and install it on the Mac computer. After successful installation of this software, you will see it in the folder of Applications in the Mac OS X system.
Then, please open the application and you will see the main interface of the application. On the interface, please click the Add File(s) button in the tool bar to add the PDF files of which the passwords will be removed. Please see it in the following snapshot.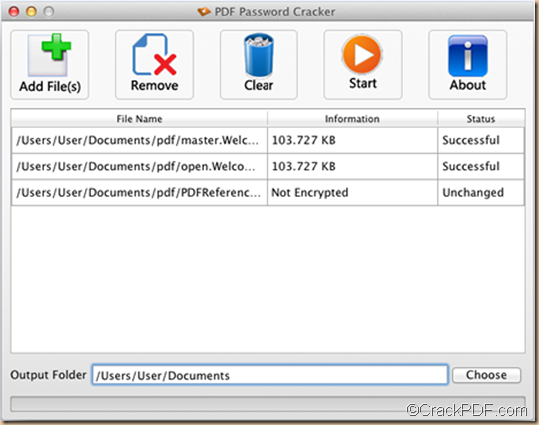 Thirdly, please click the Choose button at bottom of the interface to set an output folder to save the new PDF files without passwords.
At last, please click the Start button beside the "Clear" button, and then the application will start to process the added PDF files
If the added PDF file is protected by owner password, the application will remove the owner passwords instantly without any requests. However, if the PDF file encrypted by open password, you have to input the correct open password to allow the application to open and save the PDF file.
After removing PDF owner passwords and user passwords, you can freely view, edit, copy, etc. the contents of the PDF files.
Via clicking the following button, you are able to download CrackPDF PDF Password Cracker for Mac. Just have a try and you will love it.

Related Posts