PDF Password Cracker can recover PDF password so that you will be able to open, copy, print or modify the Adobe Acrobat PDF documents. When you forget the PDF owner password and want to edit the content of some PDF documents, it will be a good assistant for you.
PDF Password Cracker is a professional PDF password recovery app that can retrieve the PDF password. It supports 40-bit RC4 decryption, 128-bit RC4 decryption and AES decryption.
Want to try it right now? Then, please do as follows:
Firstly, please download PDF Password Cracker. Then, please double click the installer to install it on your computer. After you launch the application icon, you will see the user interface as shown like this: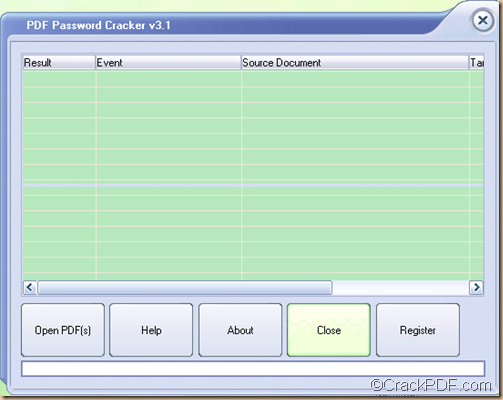 Secondly, please add the password protected PDF documents. You can drag and drop the PDF files to the process file list of the software. You can also click Open PDF (s) button on the interface of the software, browse and choose the encrypted PDF files. Then, click the Open button in the pop-up "PDF Password Cracker" dialog box to add the PDF documents.
When the "Save As" dialog box pops up, please choose an output location, input file name respectively in the File name spin box and click Save button.
NOTE: You cannot use the original name of the PDF file, you have to change it.
PDF Password Cracker will instantly remove PDF password and the success information will be shown in the file list of the program. The screen will display with the status of the password removal with "Succeed".
To view the decrypted PDF document, please right-click on the entry and click "View Target Document" in the pop-up list.
If you want to recover password for PDF documents that are protected by owner passwords, you can try PDF Password Cracker.

PDF Password Cracker.
Related Posts