PDF Password Cracker can help you crack PDF password for a bunch of PDF files that are protected by a long and complex password when you feel inconvenient and boring typing them each time you have to open a PDF file.
PDF Password Cracker is a practical utility that can help you remove password protection from encrypted PDF files without making any other change to the document. It enables you to crack the PDF passwords that protect the PDF documents from copying, editing and printing. It also allows you to crack the open password easily if you know the right open password.
Only in three steps, you'll crack the PDF password successfully. Here's what you need to do:
1. Please download PDF Password Cracker, then double-click the installation package to install the app. After the installation, it will run and the following interface will pop up.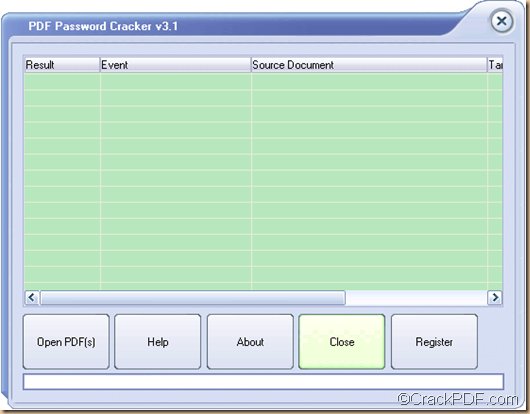 2. Please click the Open PDF(s) button on the main interface of the software to upload the encrypted PDF file. Then, you need to browse and choose the PDF file and click the Open button in the pop-up "PDF Password Cracker" dialog box.
3. Please rename the file when the "Save As" dialog box pops up. In the "Save As" dialog box, you need to select a destination folder and enter a new file name in the "File name" spin box for the decrypted PDF files, and then click the Save button in the "Save As" dialog box. the following is a snapshot of the "Save As" dialog box.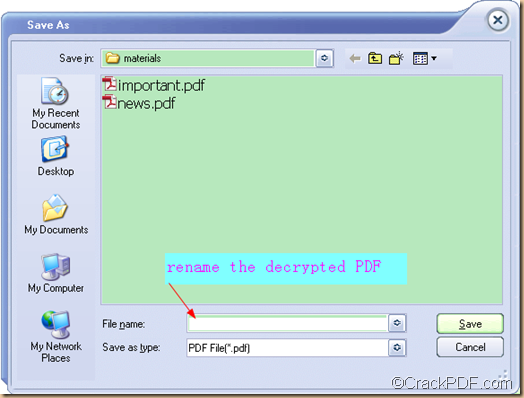 If the PDF file is only encrypted by owner password that prevents it from copying, editing and printing, PDF Password Cracker will instantly crack the owner password. However, if the PDF file is protected by user password, you may need to input the correct password, then PDF Password Cracker will crack the user password.
You will see the status of the password removal is "SUCCEED" in the "Result" list of the application.
You can right-click on the entry and click "View Target Document" in the pop-up list to open and view the decrypted PDF file.
See, this is how to use PDF Password Cracker to crack the PDF password protection. It is pretty simple to use the app to remove PDF password restriction.

PDF Password Cracker
Related Posts