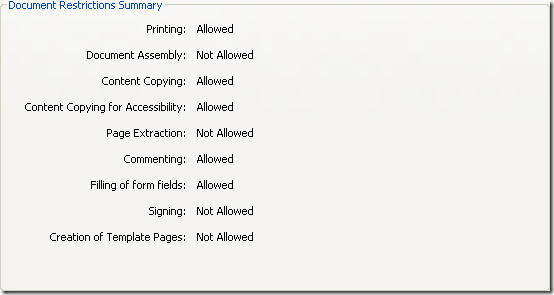 Figure 1
The information in Figure 1 above is the information of some password protected PDF document which is not allowed to be browsed (opened). So if you forget the password of your PDF document and you need to open it urgently, you might as well try to unlock PDF document with the help of the application CrackPDF PDF Password Cracker Pro.
The snapshot shown in Figure 2 is the interface of PDF Password Cracker Pro which can be downloaded via clicking here. There are three way to add password protected PDF document into the application:
Click Load button to open file picker window in which you can choose the file that you need.
Directly drag and drop PDF document into the application.
Input PDF file path in the box beside Load button.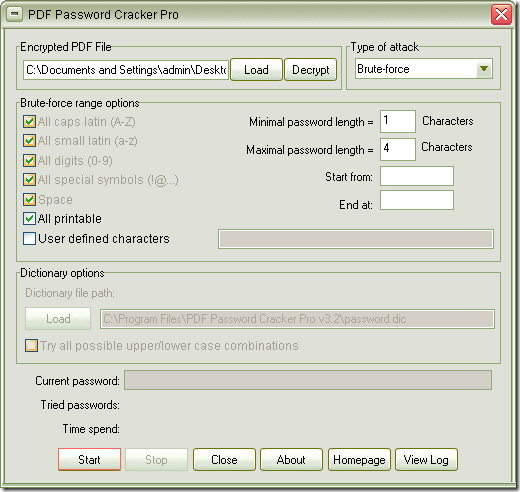 Figure 2
To unlock PDF document, you need to choose a right unlocking method from the application. In Type of attack group box, you can choose three ways: Brute-force, Dictionary, Keyword. When you choose Brute-force method, the options in Brute-force range options will be usable. If you choose Dictionary way, the options in Dictionary options will be available. To know all the function of each option, please read the user manual of PDF Password Cracker Pro.
For starting to unlock PDF document, please click Start or Decrypt button and the application will start to try any possible password of the document until the document is unlocked, when you need to save the target file without any password and then you can browse the document easily without any limitations.
You can click here to enter the homepage of PDF Password Cracker Pro to see all of its features. If you are interested in it and need to use it, please purchase this powerful application which will be a real good helper to you.
Related Posts