CrackPDF ZIP Cracker (click here to download) is a useful tool which can help users crack ZIP when they forget or lost their ZIP password. CrackPDF ZIP Cracker provides three strategies to help users find the lost or forgotten passwords, making it possible to reopen or reuse the ZIP files protected by passwords, no matter how long a password is. Different users can adopt different strategies to crack ZIP. Those who can remember some information of their lost passwords should try the customized brute-force attack first. Those who remember nothing should try the dictionary attack and the brute-force attack with trying every combination. CrackPDF ZIP Cracker provides multiple choices to crack ZIP as quick as possible.
If you have no idea how long the lost password is, yet can remember that it is combined with only some numbers, you should try the customized brute-force attack. Just try as follows to crack ZIP.
Open CrackPDF ZIP Cracker
You will see the following interface of CrackPDF ZIP Cracker as below: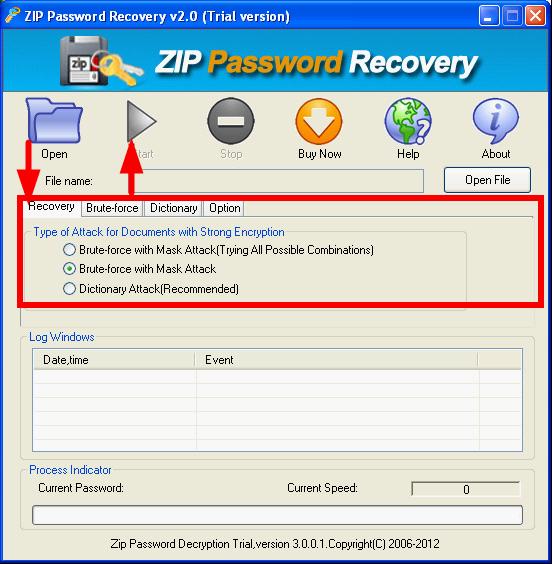 2.Click the Open button to add a ZIP file
3.Select strategy options
Because you remember some information of the ZIP password, you should adopt the customized brute-force attack as the first strategy.
3.1.Click the second radio button before Brute-force with Mask Attack
3.2.Click the Brute-force tab to switch to the Brute-force tab control, then you will see the following contents:

3.3.Click the square box before 0-9. If you can remember that the password contains letters and numbers, you can click the square boxes before a-z and A-Z.
Click the Start button
After you select options, please click the Start button. You can view the processing status, current password, and current speed on the Process indicator pane at the bottom of the interface. And the start time and result will be shown in the Log Windows.
The following are some features of CrackPDF ZIP Cracker:
Brute-Force attack and Dictionary attack are used to recover the password.
Support all versions of WinZIP/ZIP archives.
Support new dictionaries that are added by users.
Save password searching history automatically.
Support password length setting.
Support character setting.
Purchase and Price
The free trial version can only be used for 20 times. If you want to buy the full version, please select the proper license below and click FULL VERSION.