CrackPDF XLS Password Cracker is a professional software application which can help you reopen your Excel files by cracking the passwords. It supports all Excel file formats. For example, it can crack XLS passwords and XLSX passwords. As a Windows based application, CrackPDF XLS Password Cracker supports all Windows systems including Windows 2000 and later systems, and both 32bit and 64bit systems. It is designed to help those who forget the Excel passwords yet need to reuse the contents of the password-protected Excel files. By means of CrackPDF XLS Password Cracker, you can easily crack XLS passwords or XLSX passwords, without generating any damage to the original Excel files.
CrackPDF XLS Password Cracker is an easy to use application. The interface is user friendly. When you crack XLS passwords and passwords for other types of Excel files, you only need to click some buttons and select some options. You can directly view the cracking status in the interface such as current speed, start time and finish time. You can free download the Trial Version of CrackPDF XLS Password Cracker and use it free for 20 times. After you run this application, you will see the interface of CrackPDF XLS Password Cracker as illustrated below.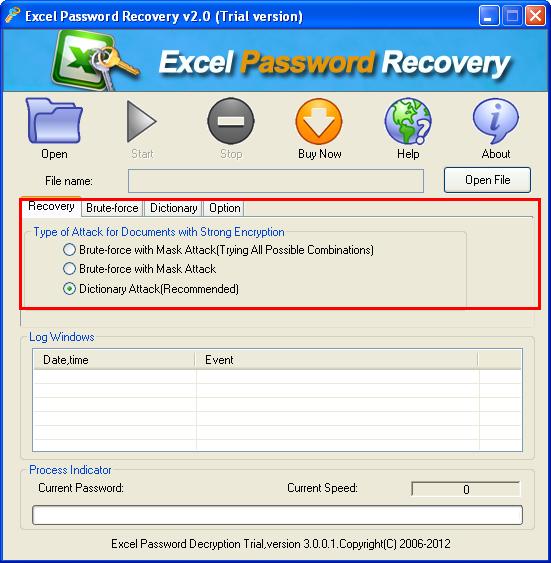 In the middle part of the interface there is a tab control. In this part, you can choose a proper method to crack XLS passwords or other Excel passwords. CrackPDF XLS Password Cracker provides three methods to crack Excel passwords: the dictionary attack, the brute-force with mask attack and the brute-force with mask attack (trying all combinations of possible combinations). No matter how much information you can remember about the lost password and how long your password is, you can use a proper method to crack your password as soon as possible.
The following are some features of CrackPDF XLS Password:
First, CrackPDF XLS Password has the capacity to crack XLS passwords for files created by MS Office Excel 1997-2010.
Second, this tool can crack passwords of other Excel file formats like XLSX.
Third, it is a stand-alone application.
Fourth, it can search all the words in a build-in dictionary and also allows users to add a user-created dictionary to the application.
Fifth, automatically save the cracking status and allow users to resume the process after a interruption or a stop.
Sixth, users can set auto-save time.
Purchase and Price
Would you like to use this application for ever? Please read the price list below, choose a proper license and then click Full Version.The following is the list: