Can you still remember the Excel password length? Can you tell what the Excel password is combined of? Or, have you absolutely forgotten your lost Excel password? Don't worry! No matter how much information you can remember about the password, CrackPDF Excel Password Breaker can help you use the least time to break Excel password and get your lost password back. It is a stand-alone application and supports all windows systems: Windows 2000 and later systems, both 32bit and 64bit systems.
CrackPDF Excel Password Breaker is a professional software application which is designed to help those who lost their Excel Passwords by accident, or fail to recall the Excel Passwords. The three attacks provided by CrackPDF Excel Password Breaker guarantee the recovery of Excel Password. The three attacks are dictionary attack, brute-force with mask attack and brute-force with mask attack (trying all possible combinations). You can try the three attacks to break Excel password in an easy way by choosing some options and clicking some buttons. CrackPDF Excel Password Breaker is an easy to use application. As you can see, the interface as illustrated below is designed simple. It can be divided into five parts. You can select options in two parts as marked by red rectangles, and the rest four parts display information such as file name, start time and finish time, and speed.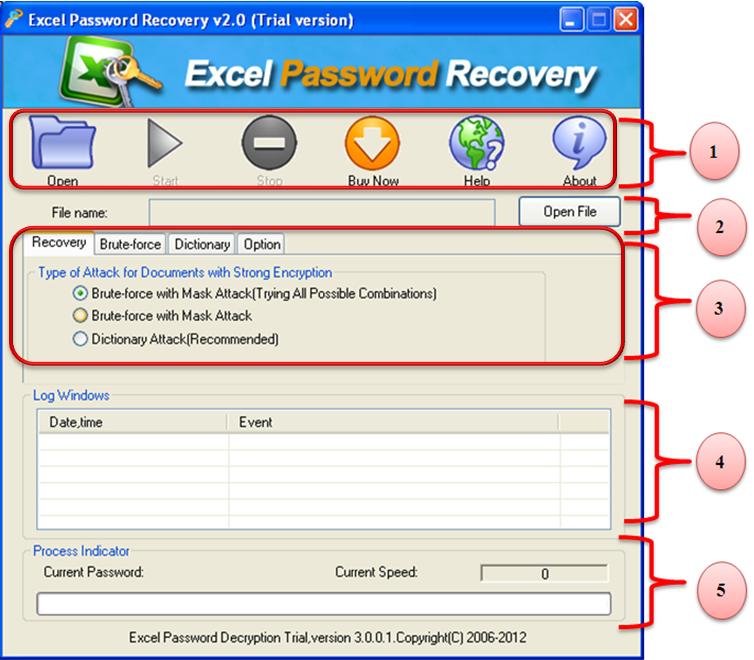 The following are some features of CrackPDF Excel Password Breaker:
Break Excel passwords for MS Office Excel 97-2007 files in the format like *.xlsx and *.xls.
Do not require any third party application.
Allow users to resume the password breaking process after a pause.
Allow users to add user-built dictionary to the application.
Purchase and Price
Click Trial Version, you can free download the free version of CrackPDF Excel Password Breaker and try it for 20 times. If you want to own the product, please read the list below and select the proper one depending on your requirements. Then, please click Full Version.