Access Password Recovery is a big helper when you don't remember or lose the password of a MS Access database document. The application can help you find or obtain the password via three kinds of finding methods: Brute-force Mask Attack (Trying all Possible Combinations), Brute-force Mask Attack and Dictionary Attack (Recommended). To the old version of MS Access (2003 and earlier), Access Password Recovery can instantly find the forgotten password.
Please see the interface of Access Password Recovery in Figure1. There are some buttons on the interface. The "Open" button is for opening the folder where saves the MS Access database documents and adding the documents into the application. The "Open File" button below "About" button is also for the same purpose. By clicking" Start" button, you can run Access Password Recovery after adding the encrypted Access document into the application. You can stop the current finding state at any time and the application can auto-save the current state. If you are using the trial version of the application and want to get all functions of it, please click on "Buy Now" button, which will lead you to the purchasing website. For obtaining the related information about the application, you can click "Help" and "About" buttons.
Please see the Tab control in the middle of the interface. In "Recovery" Tab, you can see the finding methods for the encrypted Access document. "Dictionary Attack" is used to find the forgotten or misplaced password by trying the most likely password combinations of words and phrases in the built-in dictionary, which is a recommended choice. In this case, the Tab "Dictionary" is available, in which you can add the dictionary file from your disks or use the original file offered by the application. Please see the Tab in Figure2.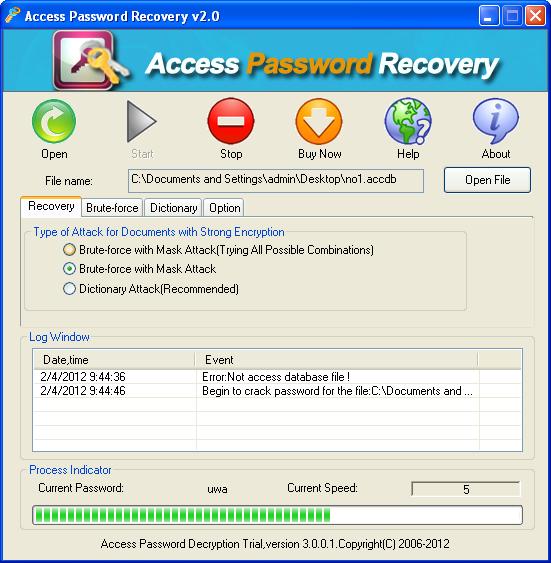 If you check "Brute-force Mask Attack" option, Access Password Recovery will find the password by trying the possible combinations from the masks defined by users such as digits, letters or punctuations. This option is for those who know some part or the length of the Access password. In case, the Tab "Brute-force" is available, in which you can set the password length and the characters. Please see it in Figue3.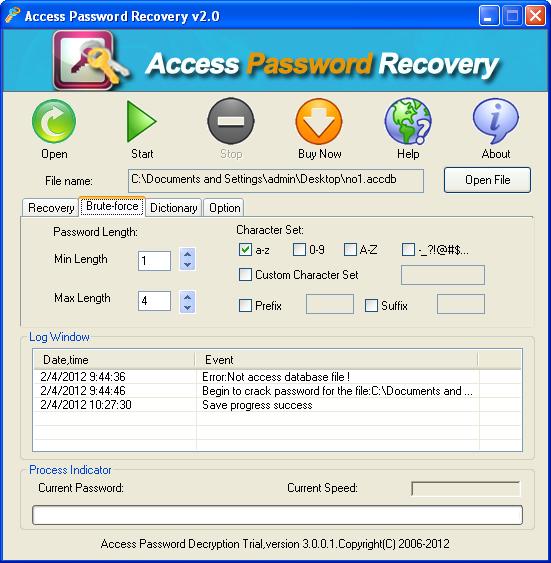 When you choose "Brute-force Mask Attack (Trying all Possible Combinations)" option, the application will find the lost or forgotten password by trying every possible combination. In "Option" Tab, you can make the application auto-save the recovery state by setting the time yourself. You can also check the "Shut down the computer after cracking finishes" option if you need. Please see the "Option" Tab in Figure4.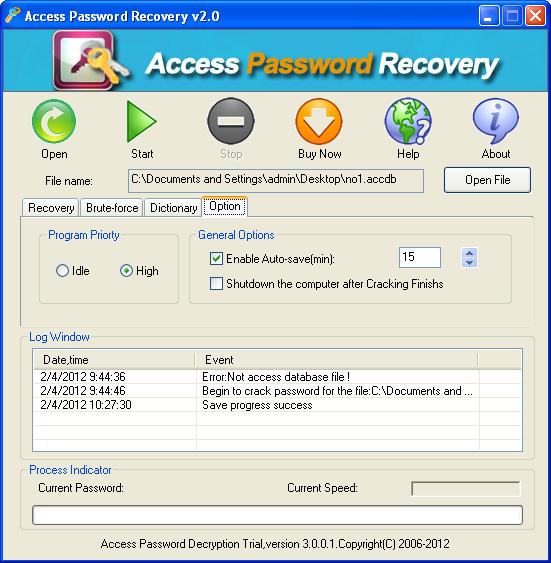 Purchase and Price