If there is a seriously important RAR archive which needs to be opened at once, but you forget or lose the password of it, in this situation, you can use a helpful application called Access Password Hacker which can hack Access password with three kinds of hacking types.
The interface of Access Password Hacker in Figure1 is given for your better understanding the application. By clicking "Open" button in the interface, you can add the encrypted Access database document to the application from your computer. The "Open File" button below "About" can also realize the same function. You can use the "Start" button to run the hacking process. To stop the hacking process, you just need to click "Stop" button. If you want to know some related information about the application, please click "Help" button to check details. See the basic introduction of Access Password Hacker by clicking button "About".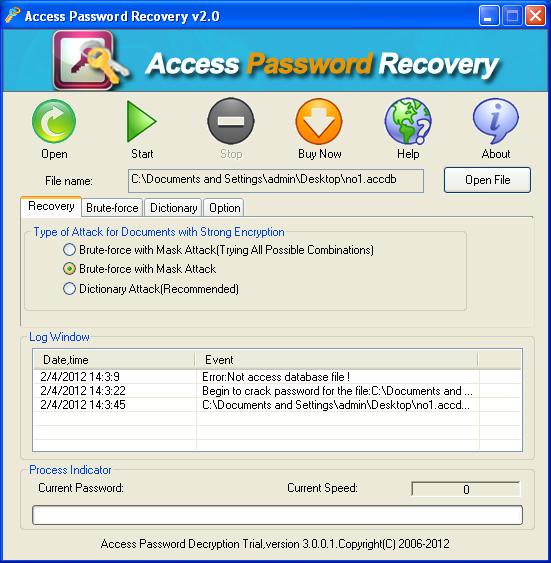 In the middle of the interface, there are four main tabs. In the "Recovery" Tab, hacking methods of the application are shown here. The first one is "Brute-force with Mask Attack (Trying All Possible Combinations)" which suites for the situation that you know nothing about the password and the application will hack Access password by using any possible combinations. The second one is "Brute-force with Mask Attack" which offers a method for those who know something about the password, like length or password characters. The third one is "Dictionary Attack (Recommended)" which will hack Access password from the built-in dictionary as a password.
The second and the third main tabs serve for the hacking methods Brute Force Attack with Mask Attack and Dictionary Attack respectively. If you want to make the application auto-save the hacking state or shut down the computer when the hacking finishes, you can set the parameters in the last Tab.
Please download free trial version of Access Password Hacker by clicking here. If you want to use the full function after free evaluation, you can buy different kinds of licenses. Single-User Personal License, Single-User Commercial License, Multi-User Personal License, Multi-User Commercial License, Site License can be purchased via clicking here.
Features of Access Password Hacker:
Support all Windows systems including both 32 bits and 64 bits.
All versions of MS Access are supported.
Hack password of all version Access Database documents instantly.
Hacking methods: Brute-force Mask Attack (Trying all Possible Combinations), Brute-force Mask Attack and Dictionary Attack (Recommended).
Able to save a current hacking state.
Set the password length and characters in Brute-force Mask Attack modes.
Add the dictionary files in Dictionary Attack mode.
Save the current recovery state every 15 minutes by default.
Customize the auto-save time interval.
Shut down the computer when the cracking finishes.
Purchase and Price