Access Database Password Cracker can be used to crack the encrypted Access database document whose password has been forgotten or lost. The application is useful when you want to browse the archive desperately. Access Database Password Cracker can be downloaded for free via clicking here. Trial version of the application is free of charge, and you can buy single-user personal license, single-user commercial license, multi-user personal license, multi-user commercial license or site license for using the full version.
The main interface of Access Database Password Cracker is shown in Figure1. Some buttons and some Tabs are available in the interface.
When you click "Open" button, you are able to add the encrypted Access database documents to the application. The "Open File" button is also for the same function. The "Start" button is for staring the cracking process. If you want to end the cracking process, you can click button "Stop". When clicking "Buy Now" button, you can see a window which asks you to input a registration code if you are using the trial version. To get some related information about the application, you should click "Help" button.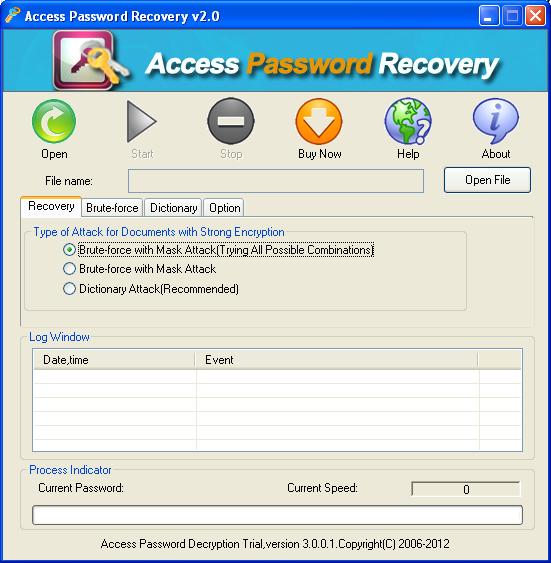 You can see the three cracking methods in "Recovery" Tab-Brute-force with Mask Attack (Trying all Possible Combinations), Brute-force with Mask Attack, Dictionary Attack (Recommended). For different situations, you can choose different cracking types. For example, if you know some part of the password, you can choose the "Brute-force with Mask Attack" method, because you can tell something related to the password, like length or characters to this application in "Brute-force" Tab. Then it can shorten the breaking time. The "Dictionary Attack" method can be chosen when you want to crack Access database password in the dictionary file but you have no clue about the password. Then you can choose "Brute-force with Mask Attack (Trying all Possible Combinations)" method which will try all likely passwords one by one to work for you. However, it is the slowest method.
Features of Access Database Password Cracker:
Support all Windows systems.
Support all versions of MS Access.
Crack Access database password instantly for the old version (2003 and earlier).
Supply three kinds of attack options.
Allow to save a current state.
Able to stop the program at any time and restart it from the same state.
Allow you to set the password length and characters to shorten the cracking time.
Allow to add the dictionary files from the disk.
Auto-save the current cracking state.
Support to shut down the computer when the cracking finishes.
Purchase and Price