CrackPDF Excel Password Detector is a professional and easy to use software application which can help you detect Excel passwords, and regain the forgotten Excel passwords. With the help of CrackPDF Excel Password Detector, you can reopen the Excel file and reuse the contents of it. CrackPDF Excel Password Detector provides three efficient methods to detect Excel password. By using the dictionary attack, you can try all passwords in a built-in dictionary or any user-created dictionary. Or you can specify searching areas by using the brute-force with mark attack. Or, you can try all possible combinations by using the brute-force with mark attack (trying all possible combinations.
The interface of CrackPDF Excel Password is user-friendly. It consists of five parts. Even you are not very familiar with computer, you can quickly master the way to detect Excel passwords. The only thing you need to do is to click some buttons and select options in the first and third part of the interface. Moreover, you can also view the file name and password detecting process information after the application begins to detect Excel passwords.
CrackPDF Excel Password Cracker has a user-friendly interface, which is composed of five parts as illustrated below: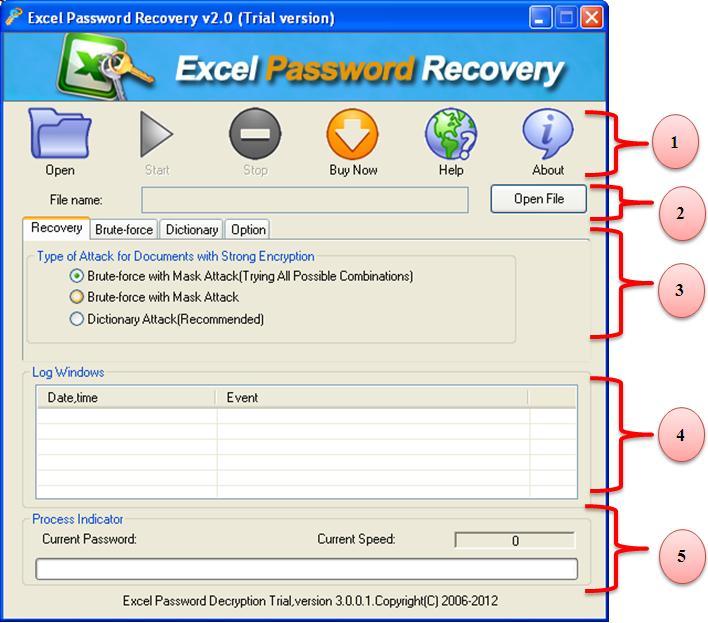 Some features of CrackPDF Excel Password
Support all Excel file formats like *.xls, and *.xlsx.
Support password protected Excel files created by MS Office Excel 1997-2010.
Support all the Windows operating systems.
Have the capacity to detect Excel passwords, enabling users to reopen and reuse their Excel files after they lost or forget the passwords.
Automatically save the Excel password detecting process, enabling users to resume the process after a stop.
Purchase and Price
The Trial Version can be used free for only 20 times. In case you want to own CrackPDF Excel Password, please select a proper license from the list below according to your requirements can click Full Version.